News
Chief judge recuses herself from 'Boom' Mantanona case
Although she writes that she doesn't have any personal knowledge of the case, nor is she biased against John "Boom" Matanona, District Court of Guam Chief Judge Frances Tydingco Gatewood recused herself from his case. Matanona's attorney requested her recusal because she was the judge who presided over the two mistrials of Raymond and Juanita Martinez.
Mantanona, his brother William Mantanona and juror in the case Gregorio Tyquiengco, were indicted for their role in a scheme to influence the jury to vote "not guilty" in the couple's drug trial. After two mistrials in Guam, the Martinez's' case was moved to a federal court in California.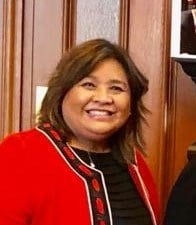 The two recently pled guilty and sentenced to two years in prison.
In an order today, Judge Gatewood recused herself because any reasonable person may question her impartiality because of her previous findings in the Martinez's case. NMI District Court Chief Judge Ramona Manglona has been designated to take over.
Mantanona was an investigator for the Martinez's defense team. He also faces one count of Conspiracy to Distribute Methamphetamine.