News
Significant, dangerous winds still expected despite downgrade to Category 4
Super Typhoon Mawar is downgraded to a Category 4 Typhoon as continues its approach toward Guam.
"It has lost its super status overnight. It took a little bit of a tumble of intensity but not much," said Landon Aydlett, meteorologist with the Guam National Weather Service. "We are going to be taking a significant hit to the island today. The CNMI is not so bad, as you all have been spared by a major impacting storm. You had your fair share in recent years, so this is going to be Guam's turn for a direct hit."
Visible satellite images showed the storm has a cloud-filled eye. The eyewall is visible on radar, and is going through a eyewall replacement cycle.

As of 9 a.m., Mawar was located 70 miles east-southeast of Guam moving at 6 mph.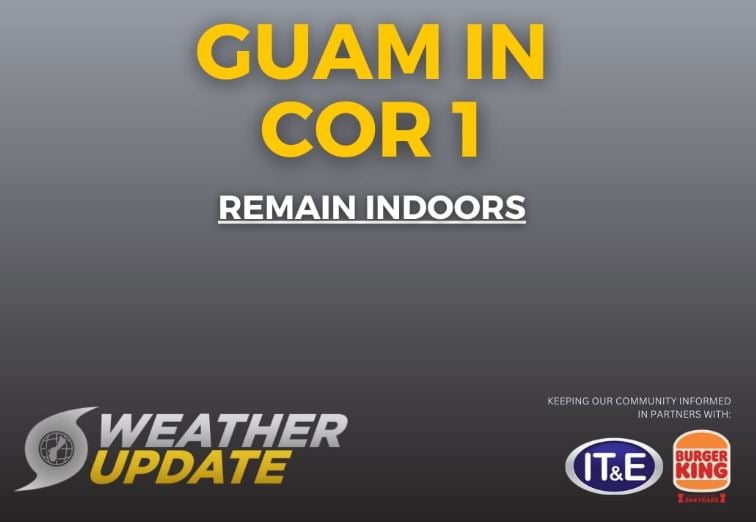 The latest forecast from the Joint Typhoon Warning Center indicates that Mawar may strengthen slightly on approach to Guam with maximum sustained winds of 145 mph, with gusts approaching 175 mph at landfall.
The storm is predicted to be over the southern part of Guam around 4 p.m.
The triple threats of Cat 4 Typhoon Mawar are torrential rains that may result in landslides and flash flooding, catastrophic wind, and life-threatening storm surge. Weather experts said this is expected for Guam, with potently catastrophic coastal flooding for southeastern and southern portions of the island.
The community is reminded to stay inside and away from windows.