News
Families seek refuge in emergency shelters
Many of you who live in flood-prone areas or just don't feel safe in your homes ahead of Typhoon Mawar have evacuated to emergency shelters throughout the island. We're giving you an inside look on how families are faring as they hunker down.
The cafeteria at Machanaonao Elementary School is usually reserved for kids. And while school's out for the summer, the Dededo campus is still seeing life walking through it. On Tuesday, the cafeteria floor was divided with tape creating a designated space for those seeking refuge from the now Category 4 Typhoon Mawar.  It's a common sight in fifteen Guam Department of Education schools now operating as emergency shelters.
At Machananao Elementary School, Sachusina Antonio and her family of eight were one of those who packed up their belongings seeking safety. The youngest of them is only 6 months old.
"I always pray to God to help me and my family. And all the people of Guam," she told KUAM News.
She and her family of eight packed up their belongings to seek safety from Mawar. They're hunkering down at Machananao Elementary School.  "When they said a typhoon is coming to Guam, I'm very scared," she added.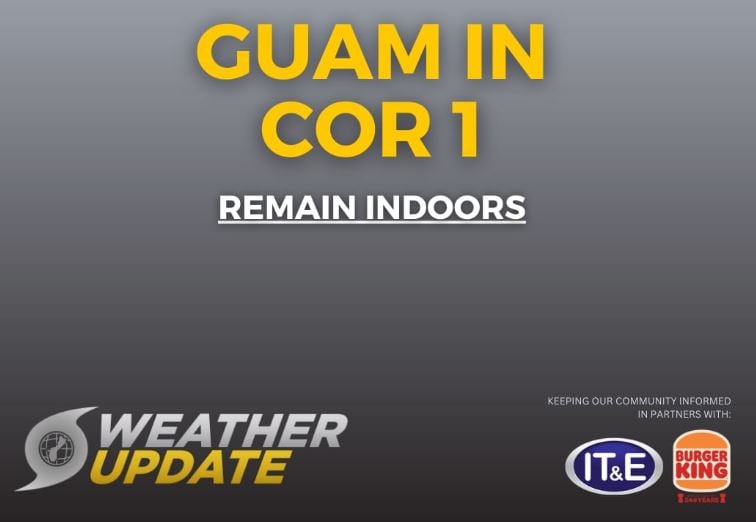 She's had her fair share of storms in Chuuk, seeing firsthand the destruction that strong winds and heavy rain can cause.  "Every time I'm praying because I'm scared of typhoons. Because in Chuuk when we had typhoons, the typhoon destroyed everything and some people died because of the typhoon," she said.
The Antonio family now calls Dededo home, but they're one of many who live in a place that can't withstand the incoming storm. "We just stay in - not a concrete house, but with a tin roof," she said.
She's not taking Mawar lightly, and neither are officials.  Dededo mayor Melissa Savares making her rounds urging residents to get to an emergency shelter now.  "Thankfully it's shifted to pass at the southern end of the island," she said, "but we know the winds and rain that come around that center point is just as critical and just as dangerous for our families especially if they're not in very secure homes."
Further south, Yona resident Benny Camacho shared that he's glad he came to seek shelter at M.U. Lujan Elementary School. "It's bad, very bad," he said of conditions at his house. "I needed to get out of there."
Everyone is just hoping to get through the storm safe and sound and praying they still have a place to go home to once things clear up. If you need a safe place to go or know someone in need, there's still time. Officials are urging to get to a designated public storm shelter before the typhoon hits.