News
Guamanians in low-lying areas ordered to evacuate
Typhoon Mawar has become a Category 4 storm. The formation is gaining strength to a powerful 130+ miles per hour, and strong winds are ahead. Meteorologists are tracking a direct hit to the central part of Guam by Wednesday. We are hearing mid-week may be very miserable if you are near the coast.
Weather experts saying it's going to be a solid hit and it's going to be a hard hit. A clear reminder why it's important - stay indoors! Stay inside! And hunker down!
As evacuations orders for coastal areas are now in effect. 
Guam is in Condition of Readiness 1, and on Route 16 and Harmon Loop Road right outside the KUAM Studios in Harmon, the roads are pretty much empty. And the community now being asked to stay inside.  Throughout the day, we saw some getting their last-minute preps in place and signs of Mawar really starting to show its impact.
The rainfall is picking up, and there's been no sunshine since many of us woke up to start the day.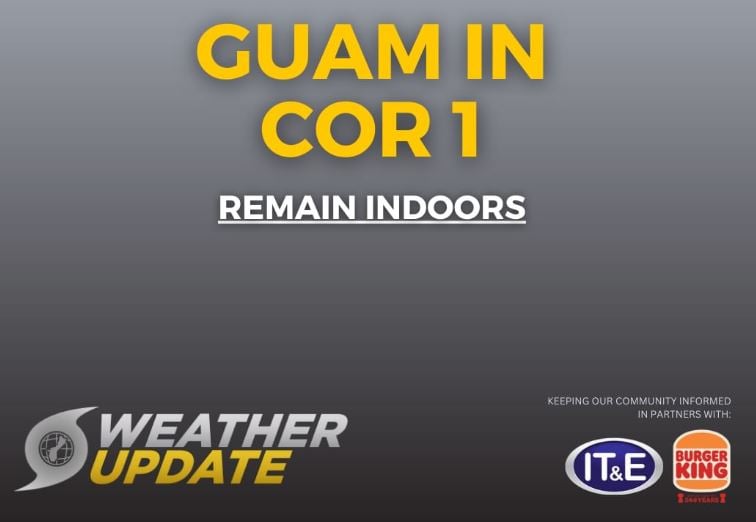 It wasn't business as usual in the island's capital, as Hagatna was basically a ghost town. Governor Lou Leon Guerrero also ordered evacuations for all in low-lying, flood-prone and coastal areas just before lunchtime. The Guam National Guard was also instructed to help out. 
In Hagat, along Route 2, it's one of those low-lying areas. Village mayor Kevin Susuico's staff have been doing all they can to get their residents to a safe place, as he said, "We remain very prayerful and hopefully a miracle happens that we don't get hit by the storm. It's been almost 20 years since we got hit with a Category 4 typhoon. A lot of our constituents may not be ready for this but we remind them to please secure your families."
He says the preparation have been underway since COR-2 was declared over the weekend to include providing sandbags. "Our office has reached out to those who have been on our senior citizen listing," mayor Susuico said. "We also went door-to-door for the ones in our lower-lying areas, we've placed it out on our chat groups and Facebook page. We are trying our best to get to everybody."
Trying their best to make sure Hagat and others across the island are able to wait out the storm safely.  What an intense few days for many of us here now getting ready for the worst of Typhoon Mawar.
Again, for your safety, you're highly urged to get inside and stay indoors.