News
Apprentices graduate from ship repair boot camp
It was an exciting day at the Cabras Marine Corporation (CMC) Training Facility as they celebrated 19 new apprentices who graduated earlier today from the challenging 11-week Ship Repair Boot Camp I.
All 19 graduates are now employed as apprentices, ready and fully equipped to tackle their new careers at CMC as Electricians, Diesel Mechanics, or Carpenters, fulfilling the need for more Ship Repair journey-level workers.
CMC President Joseph Cruz says they are committed to developing a skilled workforce on the island in anticipation of new military facilities.
He says, "As we continue to open military facilities the island is going to need more skilled workers. We have a lot of professionals and now we need to generate more of our skilled blue-collar workers which frankly pays well. We invite the community, we invite our new graduates into our apprentice program, to continue developing their interests and skills to support a growing need on our island."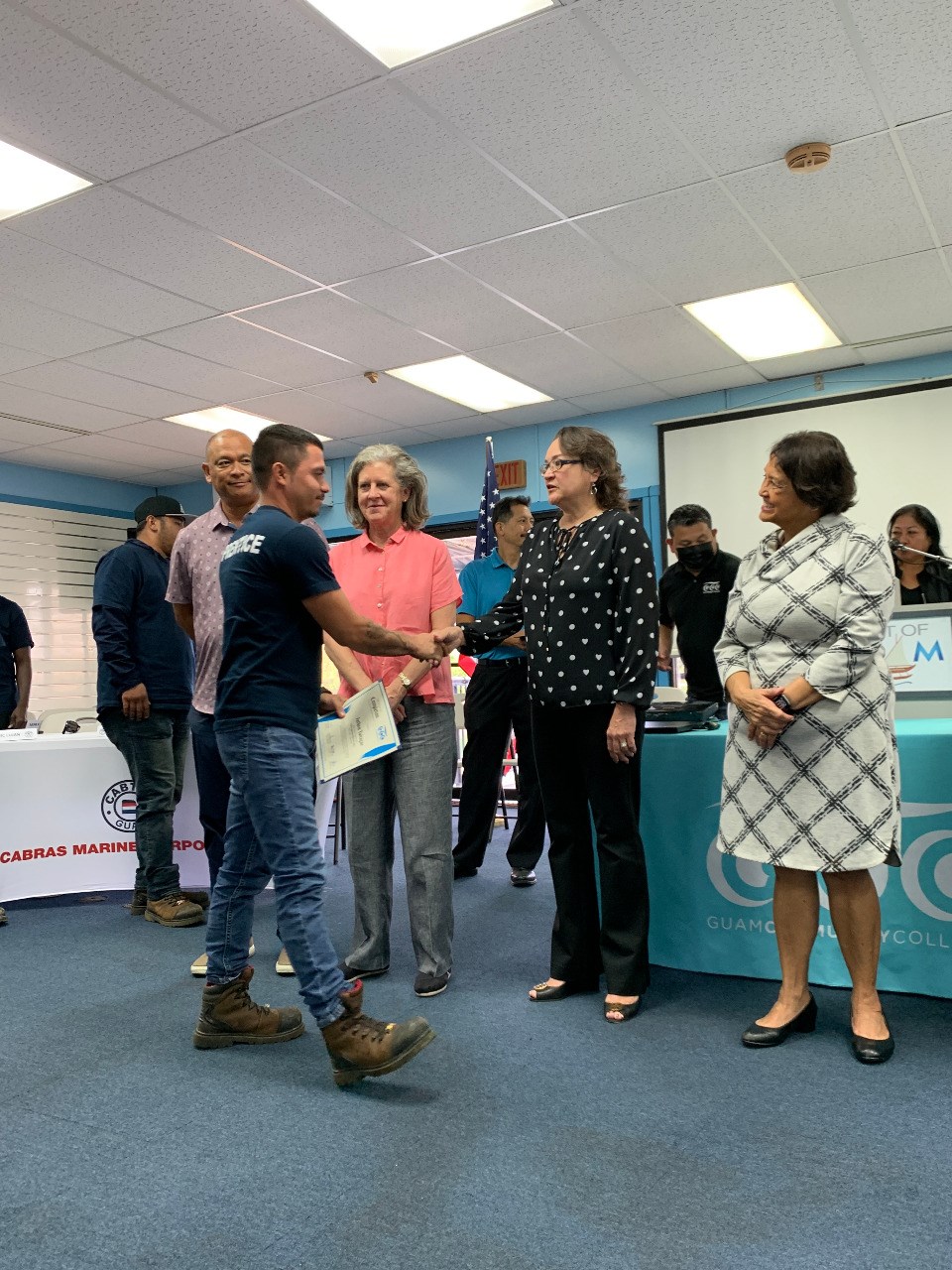 Guam Community College president Dr. Mary Okada highlights the power of partnerships, like that of GCC and Cabras Marine Corporation which made today's event possible by leveraging federal resources through the college.
She also recognizes the commitment of the apprentices saying, "... the commitment comes not just from us who provide the service but from every one of these individuals that have taken the time out of their busy schedules to make a commitment to do this [boot camp]. To all of you that believe in the power of partnerships, we are here to showcase that today."
Also in attendance was keynote speaker Director Jimmy Smith, from the Department of Navy Office of Small Business Programs. He visited Guam for the first time today to discuss the goals and opportunities for local small businesses in Guam and the CNMI amid the military build up.
He congratulates the 19 apprentices saying, "I am here to tell you folks, the United States needs Guam, and you are a part of building that strength that we need. After you leave here today, I need you to recruit more. Because we are bringing money and we are bringing opportunity. DOD is coming and if you are not going to do it here in town, on the island, don't make me bring it in from the outside. We don't want to do that. It's more effective done here. To be a part of this boot camp ceremony today I can see the promise."
GCC Ship Repair Boot Camp II completer and CMC Shipwright Carpenter Apprentice Julton Cruz encouraged the new graduates and spoke of his own experience.
He says, "I didn't have much, just like you. I was 18 years old when I started Cabras, fresh out of high school I saw it as an opportunity and that is what Cabras is, an opportunity. An opportunity for a job, experience, to make money. I've been in your shoes, getting dropped to work, carpooling. Cabras gave me the opportunity to make money and I bought myself my own car. I support my family now. The people that supported me through the boot camp, I support them."
Congratulations to the 19 apprentices from us here at KUAM News and good luck to the start of your careers.