News
Former corrections officer who was on TikTok during prisoner escape takes deal in termination case
A fired Department of Corrections officer has taken a deal.
Former corrections officer Jeremy Flores admitted to investigators that he was on social media during the time a prisoner had already escaped from the facility last November.
Flores was set to fight his termination before the Civil Service Commission today.
Instead, he agreed that he will not be going back to work for the prison.
On TikTok and Instagram for more than half an hour while on duty, Flores was one of two prison employees let go for failing to do his job – keep watch.
Investigators learning from Flores that he reported for duty in the early morning hours after prisoner Anthony Camacho escaped from the Mangilao facility undetected the night before on Nov. 1, 2021.
Flores and fellow officer Makino James told investigators at DOC and Guam police that they accounted for Camacho during their shifts.
They later admitted to improperly reporting that proper headcount after being showed video surveillance from a nearby store that captured Camacho the night of Nov. 1 going into the store before waiting for his ride. 
Flores appeared before the Civil Service Commission today set to fight for his job back.
But ahead of arguments – a settlement was reached with the government - Flores agreed to voluntarily quit.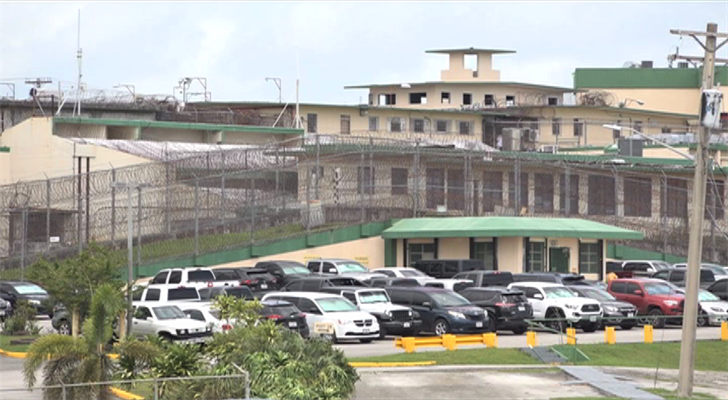 "He will provide a resignation letter," Assistant Attorney General Donna Lawrence said. "He waives all rights to back pay benefits and costs, and finally, he agrees not to be employed by the Department of Corrections. That is our agreement."
Commissioners verified if the resignation was what he wanted.
"Yes, sir, I do," Flores responded.
"So there will be no need to go forward today with anything based on his acceptance," Lawrence said.
After the hearing, Flores gave hugs to fellow corrections and Guam Police Officers there showing him support.
Also, shaking the hands and thanking each commissioner.
This means he will still be eligible to work elsewhere in GovGuam.
In response to Flores' decision to resign, Guam Federation of Teachers field representative Robert Koss told KUAM News, "We don't have a lot of confidence the commission will support him. He has no prior disciplinary action. He wasn't happy about it. He admits he made a mistake and wants a second chance. But that's not possible."
Koss added DOC management is not taking responsibility that the problem is the aging facility stating, "I have more cases from DOC than the rest of the government tenfold."
Flores and DOC officer Makino James were fired in January following the internal affairs investigation that found both did not perform head count when prisoner Camacho escaped.
While on the run, Anthony Camacho along with his brother Agusto Camacho Jr. went on an alleged crime spree stealing items at a gas station, attacking a man and stealing his car, and using meth.
More than a handful of other prison escape cases have surfaced since then.
James' case is set to go before the commission on Sept. 28.