News
Lawmakers: FestPac delegation won't be funded by Tourist Attraction Fund
The Guam delegation to next year's festival of the Pacific Arts is seeking $400,000 to cover the costs. And while there was no lack of support for sending the group to Honolulu, lawmakers did have questions about the spending.
The bill by Senator Kelly Marsh (Taitano) would tap into the Tourist Attraction fund to send a 100-member delegation to Hawaii. Department of CHamoru Affairs Director Ann Marie Arceo says the Festival is important to promoting Guam's culture, and cultural ties to the Pacific.

"I know we could say its just performing arts, but let's not take for granted in our historical colonization that this is ways that our people and our youth can heal," she said. "Festival of the Pacific is a way that our youth can heal and restore their self-identity and find in themselves their direction."
Of the 100 approved slots. The governor, Arceo, and four Arts Council staff will get six slots, the rest are for artists and performers. But senators had questions about the budget, which works out to about $4,000 for each member.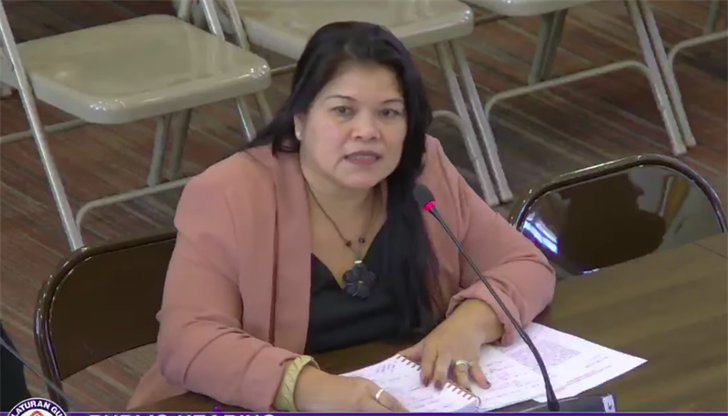 "Coming straight and asking for all this money, I think there should be efforts first with fundraising and seeing how much money you can raise. And show us this budget, I'm surprised that you came to this hearing without a budget," Taitague told Arceo.
"This money should not come from Guam Visitors Bureau, it should come from someplace else," Sen. James Moylan followed. "And that's something this committee and probably the senators are gonna have to find out. And really discuss where are we gonna take it, and if we're to take it from someplace else, where is that going to be?"
"It's very unhelpful to not have a budget proposed in front of us today," Terlaje said. "I'll tell you that right now."

"I just want to state for the record that I will give that to you," Arceo responded. "I will bring to the executive committee all the concerns that you've asked."
The committee indicated the money would not come from the Tourist Attraction Fund, but most likely from unappropriated funds, though the governor has declined to identify that as a surplus.