News
KUAM obtains congressman's spending reports
Thursday, September 12th 2019, 1:34 PM ChST
The numbers are in and Guam Del. Mike San Nicolas is outspending CNMI Delegate Kilili Sablan and his predecessor Madeleine Bordallo. That's according to official Congressional office spending reports. 
KUAM has sent several requests for staffing patterns and office spending to Congressman
Michael San Nicolas and his staff dating back to February. We haven't received a single response.
House of Representatives member spending reports have since been posted by Congress, and those records show San Nicolas' staff has doubled, going from 12 to 25 from the first quarter to the second quarter.

The highest-paid staffers on San Nicolas' payroll are District Director Jennifer Winn and Legislative Counsel Sahara Defensor. Both are making $85,000 after they both received $2,000 raises in the second quarter.

Records show that San Nicolas' "outreach staff" of seven was paid a total of $57,500 for two months of outreaching. The average outreach staffer was paid $5,000 a month, with most outreach staff getting $10,000 for a couple months' work.

San Nicolas spent $26,719 on lodging in the first two quarters of 2019. His biggest lodging expenditures listed are $3,971 for six days, $2,720 on February 26 and $8,749 spent on May 7 and 8, according to Congressional documents.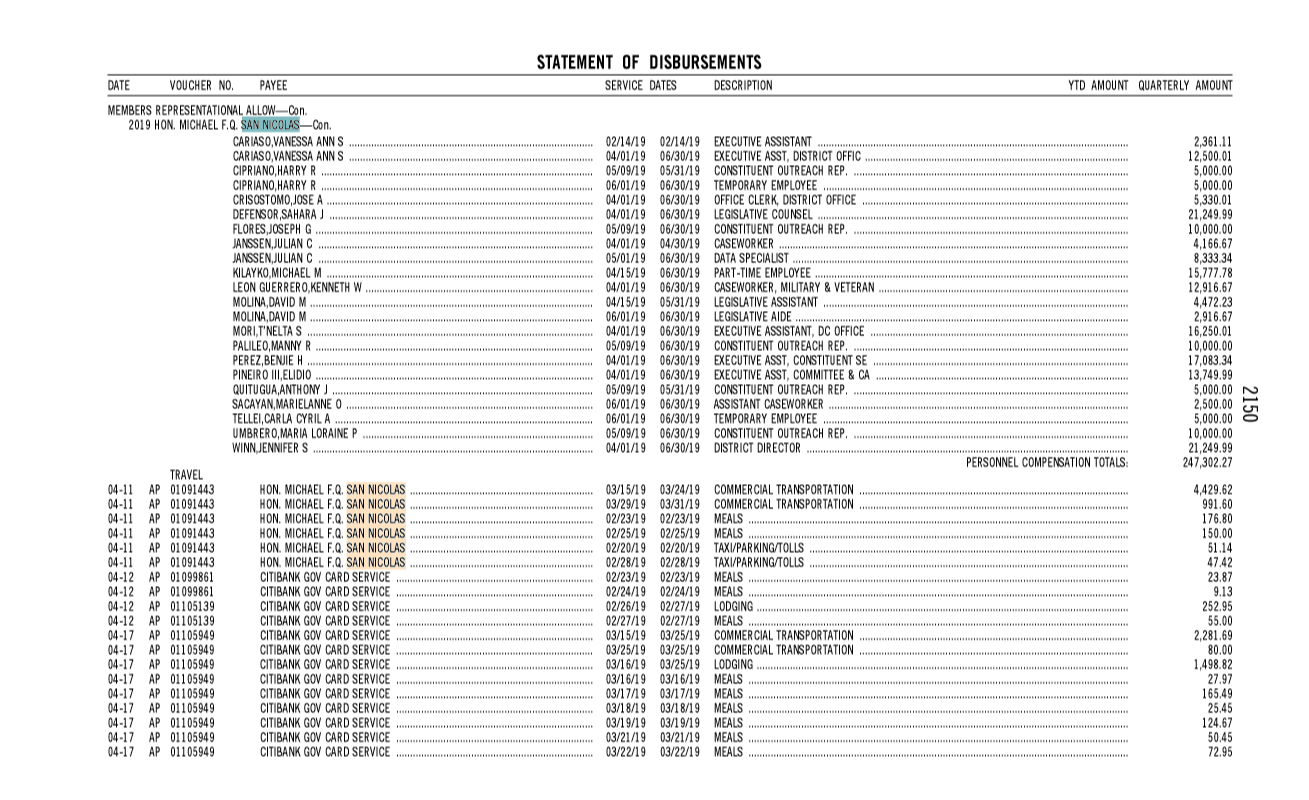 Some $8,505 worth of meals were also purchased by the delegate's office. The biggest meals purchased were $582 on February 20, $487 on February 24, $595 on March 29 and $404 on March 31.
San Nicolas' office also spent $10,109 on food and beverage, which is defined as food and drink costs associated with official meetings that include people who are not employed by the House.

San Nicolas' office spent $510 at the Capital Grille, a high-end Washington, D.C. steakhouse, $854 at Outback Steakhouse, $309 at the Sheraton. His biggest food and beverage expense was $7,200 on March 18.
March 18 was the day San Nicolas held his District Office opening. Although it was billed as a Town Hall meeting, KUAM interviewed attendees who said the event was more like a reception. House rules state "members and employees may not be reimbursed for food and beverage expenses related to social activities or social events (e.g., hospitality, receptions, entertainment, holiday or personal celebrations, and swearing-in or inauguration day celebrations).
Commercial transportation was the largest expense for San Nicolas' office at $69,184.
Requests for rent totals for San Nicolas' office were also never returned, but Congressional records who San Nicolas' district office rent is $3,000 a month. He rents from R and D Investments.
By comparison, travel costs for San Nicolas are greater than his predecessor Madeleine Bordallo. In the first two quarters of 2018, Bordallo spent $72,138. For that same period in 2019, San Nicolas has spent $109,594.
In total, San Nicolas'expenditures for 2019 so far at $662,773. CNMI Delegate Kilili Sablan has spent less than his Guam counterpart, with $527, 462 in expenditures this year.
As a member of Congress, Del. San Nicolas receives an office budget of $1.4 million.
• Nelta Aien, executive assistant $50,000
• Thomas Calvo, content specialist $50,000
• Vanessa Ann Caraiso, executive assistant $50,000
• Jose Crisostomo, office clerk $21,320
• Sahara Defensor, legislative counsel $84,996
• Julian Janssen, data specialist $49,996
• Carla Tellei, temporary employee June $5,000
• Michael Kilayko, part-time
employee 4/15 to 6/30 $15,777
• Ken Leon Guerrero, caseworker $51,664
• David Molina, legislative aide $29,552
• TNelta Mori, executive assistant $65,000
• Benjie Perez, executive assistant $68,332
• Eli Piniero, executive assistant $54,996
• Jennifer Winn, district director $84,996
Office spending January to June 30
• Commercial Transportation $69,184
• Lodging $26,719
• Food and Beverage $10,109
• Meals $8,505
• Taxi/Parking/Toll $3,630
• Car Rental $1,334

Congressional Outreach Staff
• Elizabeth Camacho, May/June $10,000
• Harry Cipriano, May/June $10,000
• Joseph G. Flores May/June $10,000
• Anthony Quitugua May $5,000
• Marielanne Sacayan, June $2,500
• Maria Umbrero, May/June $10,000
• Manny Palileo, May/June $10,000
 
Bordallo 2018/San Nicolas 2019 Comparison
1st & 2nd quarter
Commercial Transportation
• Bordallo $50,894
• San Nicolas $69,184
Lodging
• Bordallo $11,471
• San Nicolas $26,719
Meals
• Bordallo $2,592
• San Nicolas $8,505
Taxi/Parking/Tolls
• Bordallo $1,562
• San Nicolas $3,630