News
Administration leads Micronesia-Wide Cleanup Friday
Join the Leon Guerrero-Tenorio administration along with visiting regional leaders and the Island Beautification Task Force for the first Micronesia-Wide Cleanup on Friday, Sept. 13.
This first event will focus on Tagachang Beach, Pagat Cave, Marbo Cave, and Tanguisson Beach from 1 p.m. to 5 p.m. GovGuam employees who wish to participate will be allowed administrative leave for the duration of the cleanup. Gloves and bags will be provided to
volunteers.
Earlier this year, while participating in the Micronesia Island Forum in Chuuk, Gov. Lou Leon Guerrero and heads of state from Palau, the Republic of the Marshall Islands, the Commonwealth of the Northern Mariana Islands, and the Federated States of Micronesia agreed to tackle regional issues together. These issues include, but are not limited to, developing the cruise ship industry, coordination for disaster preparedness, combating invasive species, and addressing climate change.
Leaders also committed to beautification efforts in their respective islands. This was the impetus for the first-ever Micronesia Wide-Cleanup scheduled for later this
week, according to Adelup.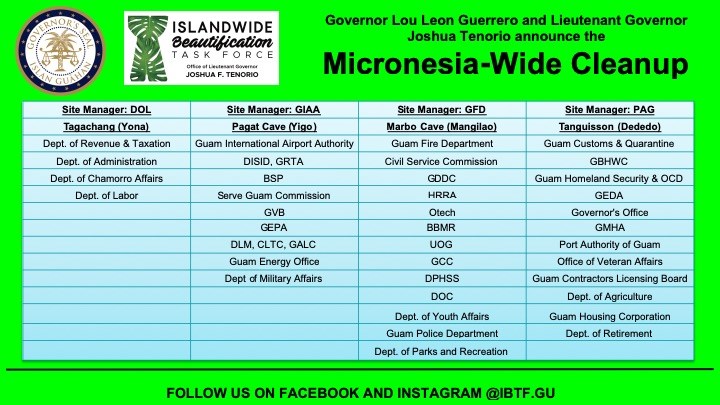 "A Micronesia-Wide Cleanup is the first of many events as we work to strengthen our regional network," Gov. Lou Leon Guerrero said. "All throughout Micronesia we are seeing first-hand the very real effects of climate change. We must communicate and collaborate to make the most impact."
"Trash and illegal dumping have become a common sight. We encourage all residents, most especially GovGuam workers, to help us start this positive movement towards a greener, cleaner
Guam," Lt. Gov. Joshua Tenorio said. "Together, we must do our part to fight climate change and protect our environment."