News
War survivor presented with honorary diploma
Time was never on her side, but education was always on her mind. The Guam Department of Education along with family members gathered to celebrate a special graduate.
Earlier this week, Miguela Sablan Catahay was surrounded by family members cheering and clapping for her big day.
It's been a lifelong desire for the 85-year-old to receive her high school diploma. Guam Education Board Chair Mark Mendiola and Guam Department of Education Superintendent Jon Fernandez helped fulfill that dream when they presented Catahay with an honorary diploma from Southern High School.

The honorary high school diploma was granted by the Guam Department of Education to honor individuals that sacrificed during and after from World War II hardships, specifically individuals that were unable to finish their education.
According to Catahay's biography that was sent to GDOE by her daughter Erlenda Catahay Aguon, this had been an ongoing fight for her mother.
Catahay was seven years old at the beginning of the war. She was the oldest of eight children living at home at the time leaving Catahay to care for her sick father and younger sister during encampment at the U.S. Naval Hospital Magazine in Santa Rita, while her mother fished and searched for food.
Once school re-opened, she returned and loved every minute of learning. Catahay developed a dream to join the WAC, however, as time went on her household responsibilities only grew and she was pulled out of school again in the eighth grade.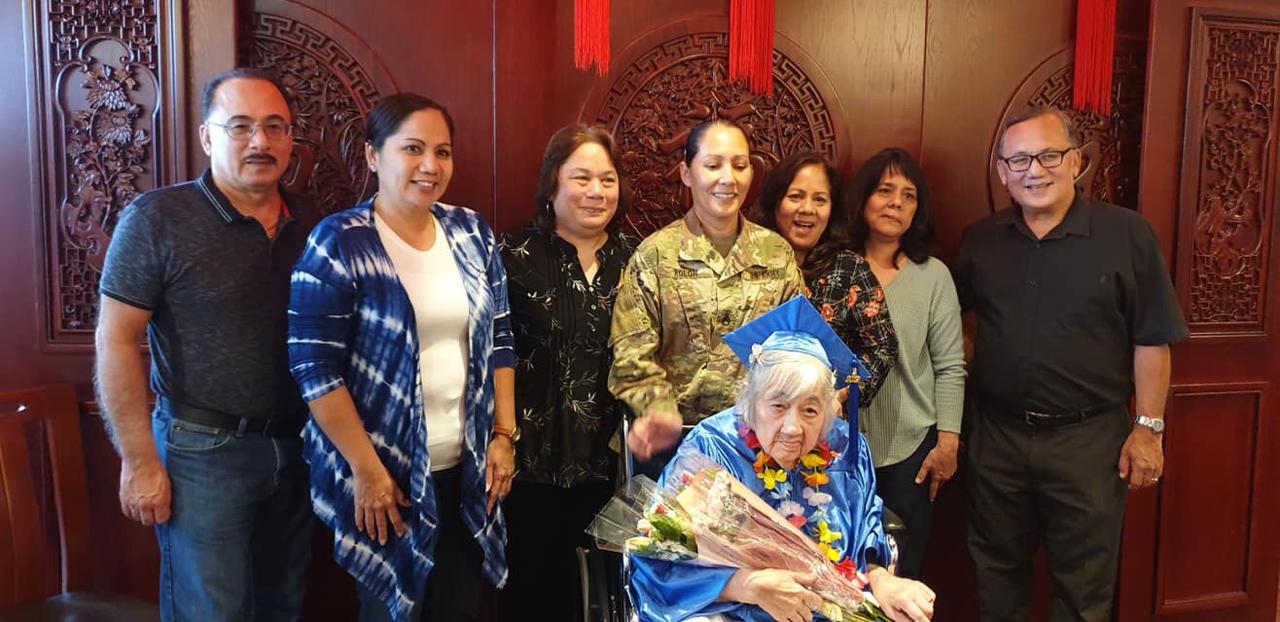 As stated in her bio, quote "Although she had intent on returning back to school to earn her high school diploma, time wasn't on her side. Her family needed her home."
He daughter continued with saying that throughout the years her mother expressed the desire to earn her GED then go to college, but time again wasn't on her side.
Catahay suffered a stroke at the age of 23 that made her wheelchair-bound, and since then she has experienced many serious health issues.
Despite these issues, her daughter said quote "mom is blessed with a brilliant mind. I've always called her the human calculator. Even with her disability she owned and operated a small Mom and Pop retail store which provided for eleven children whom she nurtured and encouraged on to high education."
It's been 78 years since the war and Catahay's lifelong battle with education began, a fight she endured and has now won.
"This is a great story of your resiliency and for all the accomplishments that you have made," Mendiola said. "God bless."