News
Activists want another meeting with governor over military buildup
Activists and advocates opposed to the military buildup are calling for another meeting with the maga'haga.
The letter calls for a meeting and asks for a status update on several recommendations made during their June 25 sit down with the governor and her senior staffers.
In that meeting, activists asked the governor to call for a pause on firing range construction.
The governor then wrote a letter to the military asking for a pause around the serianthes nelsonii tree, but that request was denied.
Among recommendations made during the first meeting - forming a task force to look at the impact and necessity of the firing range, enhancing local monitoring of the northern water lens and requesting the military to provide detailed survey maps of historic sites and artifacts.
We asked Independent Guahan's Victoria Leon Guerrero if activists were concerned they haven't heard a word from Adelup since their meeting nearly two months ago.


"We are. And that's why we reached out again," she told KUAM News. "We wanted to say 'you know, it's been over a month.' More sites have been discovered, more historic properties have been discovered through the construction of the range ad it's just a reminder that we really to do something."

Two more ancestral sites were "inadvertently discovered" by the military two weeks ago.
State Historic Preservation Officer Pat Lujan rejected the military's work plan for the sites. Instead, Lujan called for a more thorough archeological investigation. The military has not responded to Lujan yet.
Meanwhile, the letter touts the nearly 15,000 signatures an online petition opposing the firing range construction has garnered.
It further cites the Navy's determination that the current location of the firing range has "more adverse impacts than any of the other" locations that had been proposed.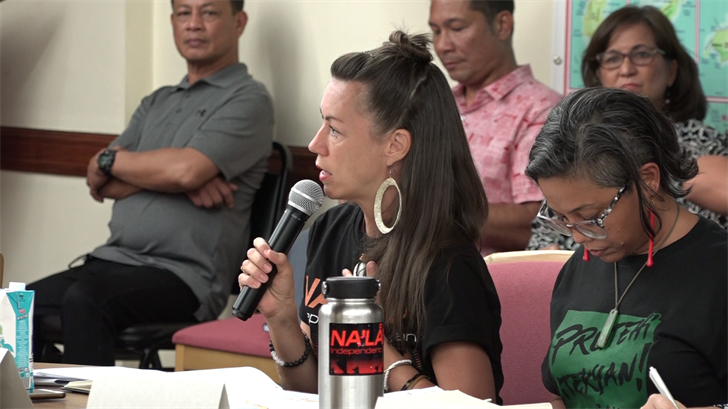 The letter was also sent to senators and Congressman Mike San Nicolas.

Leon Guerrero says activist and advocates will pursue a meeting with San Nicolas even though the delegate has refused to meet with environmental advocacy group Prutehi Litekyan. San Nicolas has, however, met with the Guam Chamber of Commerce buildup committee at least twice - including a high-level meeting in Washington, D.C.

"We hope that Congressman San Nicolas is considering the community concerns about those historic properties and also about contamination of our largest water source," she said.

The letter also calls for the governor to prioritize the needs of the people of Guam "over the interests of the military to expand their presence on our island."