News
Who is the legislature's most frequent flyer?
According to travel documents provided by the Legislature, 10 official trips have cost taxpayers $32,951. Your senators have traveled to Majuro, Saipan, Nashville, Tennessee and Washington, D.C.
While some senators have flown solo, birds of a feather fly together as four senators spent $20,000 attending the National Conference of State Legislators from Aug. 3 through the 10th. Vice Speaker Telena Nelson and Senators Amanda Shelton, Regine Biscoe Lee and Telo Taitague attended the conference in Nashville, Tennesee.
Sens. Biscoe Lee, Kelly Marsh (Taitano) and Speaker Tina Muna Barnes spent $6,000 to attend the Association of Pacific Island Legislatures general assembly from July 23-27 in Majuro.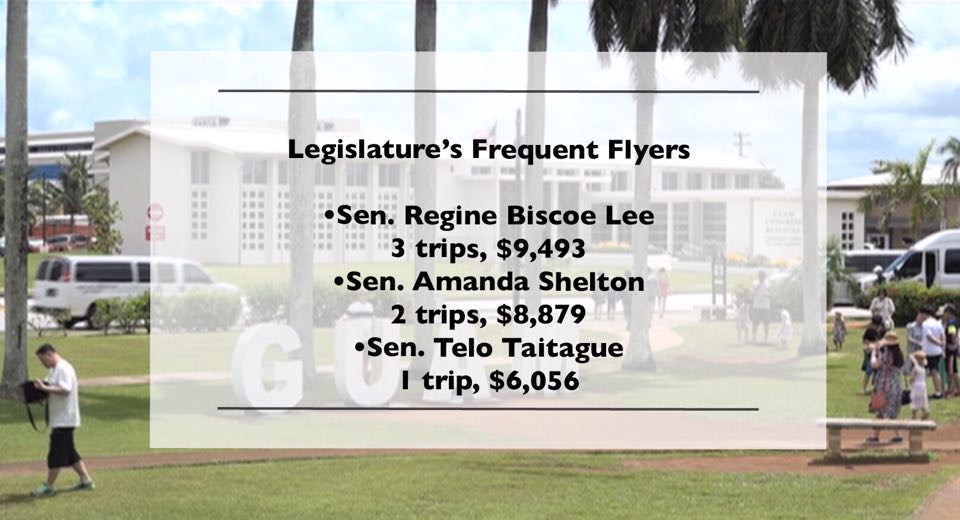 It should be noted that senatorial travel clocks in at less than a third of what senior staffers, the governor, and the lieutenant governor at Adelup have spent on travel so far this year.
So which senator is the most frequent flyer? It's close. Sen. Shelton has spent $8,879 on two stateside trips, but Sen. Lee has spent the most taxpayer's money on travel - $9,493 on three trips.
Sen. lee said in a statement - "this travel is directly related to my duties as Chairperson on Federal and Foreign Affairs. I've focused on crime reduction strategies and environmental protection at APIL, Medicaid disparities with DOI, the need for a more efficient benefits review process for veterans with the Office of Minority Veterans, and labor policy at NCSL. I know who I work for, and I do everything I can to keep their trust."